میتادراسی  نے ایک خصوصی ہیلپ ڈیسک سروس شروع کی ہے ۔جو مہاجرین اور تارکین وطن کو کرونا  ویکسین لگوانے کے لیے اپائنٹمنٹ لینے میں مدد فراہم کرتی ہے۔
یہ نوٹ کیا گیا ہے کہ بہت سے پناہ گزینوں اور تارکین وطن کوکرونا ویکسین لگوانے کیلئے ٹائم طے کرنے میں بہت سے مسائل کا سامنا ہے۔
انہیں زبان کو نہ سمجھنے کی وجہ سے مختلف مسائل کا سامنا ہے۔ مثال کے طور پراپنی بات دوسروں تک پہنچانے اور دوسروں کی بات سمجھنے اور قوانین کو سمجھنے اورسمجھانے کی مشکل درپیش ہے۔
 ان کے پاس انٹرنیٹ کی سہولت نہیں ہے ، وہ طریقہ کار سے واقف نہیں ہیں ۔ ان کے پاس مطلوبہ دستاویزات نہیں ہیں وغیرہ۔
براہ کرم میتادراسی کا ادارہ آپ تک جو چھ زبانوں (انگریزی ، فرانسیسی ، عربی ، فارسی ، اردو ، بنگالی) میں متعلقہ معلومات فراہم کررہا ہے۔ اسکو دوسروں تک پہنچائیں تاکہ سب کے لیے ویکسین کی برابری کو فروغ دیا جاسکے۔
میتا دراسی کا ادارہ تمام مہاجرین کو کرونا ویکسین لگوانے میں مکمل مدد فراہم کرے گا۔
اگرچہ آپ کے پاس کسی قسم کے لیگل کاغذات یا قانونی دستاویز موجود نہیں ہیں ۔اسکے باوجود بھی آپ اس ادارے کی مدد سے با آسانی کرونا ویکسین لگوا سکتے ہیں ۔
تارکین وطن (مہا جرین)کرونا ویکسین لگوانے کیلئے ٹائم کیسےطے کریں
آپ وائبر یا وٹس ایپ کے ذریعے بتائے گئے نمبر پر اپنی زبان میں ایس ایم ایس بھیجیں گے۔
آپ اس نمبر پر اپنا نام اور اپنی زبان جو بھی آپ بولتے ہیں  لکھ کر پیغام یعنی ایس ایم ایس بھیجیں ۔اور آپ ان سے ویکسین لگوانے کے وقت کو طے کرنے کے بارے میں  پوچھیں ۔
0030 690 809 1492
برائے مہربانی بلا جھجک اس پوسٹ کو ہر اس شخص کے ساتھ شیئر کریں جو شاید دلچسپی رکھتا ہو۔
ویکسین لگوانے کے بارے میں مفید لنک درج ذیل ہیں ۔
کرونا ویکسین لگوانے کے لئے ٹائم طے کرنے کا طریقہ کار جاننےکے لئے یہاں کلک کریں
ویکسینیشن سرٹیفکیٹ حاصل کرنے کا طریقہ کار جاننے کیلئے یہاں کلک کریں ۔
عارضی آمکا حاصل کرنے کیلئے یہاں کلک کریں ۔
عارضی آمکا   چیک کرنے کیلئے یہاں کلک کریں ۔
معلوماتی خبریں جاننے کے لئے یہاں کلک کریں ۔الاؤنسز اور حکومتی فنڈز کے بارے میں جاننے کے لئے یہاں کلک کریں ۔امیگریشن اور قوانین سے متعلق خبریں جاننے کے لئے یہاں کلک کریں۔اس خبر کا لنک  جاننے کے لئے یہاں کلک کریں
Dear all,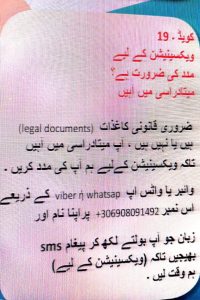 METAdrasi has started a specialized helpdesk service that help refugees and migrants in making an appointment for vaccination against Covid-19. 
It has been noted that many refugees and migrants face difficulties in making appointments (they have various communication problems due to the language barrier, they do not have internet access, they are not familiar with the procedures, they do not have the required documents, etc.). 
Please find attached the announcement including the attached posters that provide relevant information in six languages (English, French, Arabic, Farsi, Urdu, Bengali) to promote vaccine equity for all.
Please feel free to share this post with anyone who might be interested.