پاراتاسی وزارتی حکم نامہ کے مطابق یونان کے لیگل   کارڈز،ویویوسیوں (سرٹیفکیٹ)والے امیگرنٹس 31/12/2022تک اپنے اپنے ممالک سفر کر سکتے ہیں ۔
پبلک آڈر منسٹر جناب پانایوتیس تھیودوریکاکوس کی وضاحت کے مطابق  ویلڈ لیگل پیپرز رکھنے والے غیر ملکی امیگرنٹس اپنے ممالک میں سفر کر سکتے ہیں ۔یعنی 31/12/2022تک سفر کر کے ایک یا ایک سے زائد مرتبہ یونان داخل ہو سکتے ہیں۔
وہ تمام  افراد بھی سفر کر سکتے ہیں جنھوں نے اپنے لیگل اجازت نامے  اور ویویوسیاں تجدید  یعنی رینیول کیلئے جمع کرا  دیئے ہیں ۔
ویلڈ نیلی ویویوسی رکھنے والے افراد بھی سفر کر سکتے ہیں ۔
نیلی ویویوسیاں رکھنے والوں پر لازم ہے کہ انکی مدت میعاد کارآمد ہو ۔انکی فائل میں کوئی مسنگ نہ ہو۔اور انکے خلاف   درخواست مسترد یا کینسل ہونے کا فیصلہ نہ آگیا ہو۔یہی احتیاط تمام ویویوسیاں رکھنے والوں  کیلئے ہے۔
سات سالہ ثبوت پرلیگل پیپرز کے حصول کیلئے   آن لائن جمع کرائی گئی درخواستوں پر سفر نہیں کر سکتے جب تک انکی درخواست   کو منظور کر تے ہوئے انہیں لیگل پیپرز نہ دے دیئے جائیں ۔
یکم جنوری 2021سے 30دسمبر 2021 کے دوران یونان سے اپنے ممالک سفر کرنے والے تمام لیگل امیگرنٹس 31/12/2022تک یونان میں داخل ہوسکتے ہیں ۔
ایدیکی ویویوسی دیامونس رکھنے والے؛
ایدیکی ویویوسی دیامونس رکھنے والے صرف اپنے ممالک  سفر کر کے واپس یونان آسکتے ہیں ۔30/12/2021سے31/12/2022تک ویلڈ سفری کاغذات کے ساتھ یونان واپس داخل ہو سکتے ہیں ۔
ایدیکی ویویوسی والے وہ افراد جن کو کسی جرم کے بعد عدالتی پارون(حاضری) ،عدالتی فیصلہ یا  اناکریتی کے فیصلہ پر ایدیکی ویویوسی  دیامونس ملی ہو۔ان پر سفر کے قوانین کا اطلاق نہیں ہوتا۔
پاراتاسی کی حکومتی پریس ریلیز یا گزٹ دیکھنے کیلئے یہاں کلک کریں ۔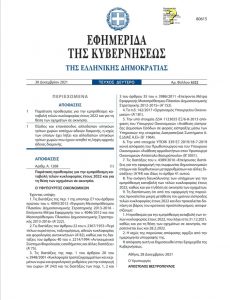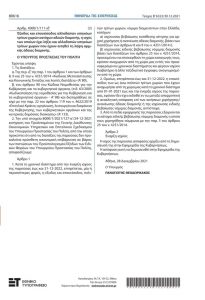 معلوماتی خبریں جاننے کے لئے یہاں کلک کریں ۔الاؤنسز اور حکومتی فنڈز کے بارے میں جاننے کے لئے یہاں کلک کریں ۔امیگریشن اور قوانین سے متعلق خبریں جاننے کے لئے یہاں کلک کریں۔مزید  تربیتی پروگرام کے بارے میں جاننے کیلئے یہاں کلک کریں ۔جابز کے بارے میں جاننے کیلئے یہاں کلک کریں ۔
Ministerial Decision No° 4000/1/111-ιδ`/30.12.2021
1.Immigrants wich reside legally in Greece ,they can enter or exit Greece once or multiple times from 30.12.2021 to 31.12.2022 a)
Immigrants that have submitted application for renewal of residence permit or application to be awarded residence permit and have the certification. ( aspri ilektroniki vevaiosi I mple vevaiosi not 7 hronia application)
b) Immigrants that have idiki vevaiosi diamonis only to visit their own country, if they travel between 30.12.2021 to 31.12.2022 and hold a valid passport or travel document.
2. Equally its allowed till 31.12.2022 for the above mentioned immigrants that have exit Greece from 1.1.2021 to 30.12.2021 to enter back in Greece provided that their application of renewal or award of residence permits has not been rejected.
3. These do not apply to immigrants that have idiki vevaiosi diamonis with
apofylakistirio or penal court decision or order anakriti.